Commercial / Industrial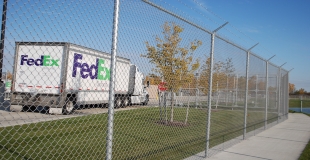 Chain Link (FedEx Shipping Center - Rossford, Ohio)
Chain link installed with galvanized 2"x9" gauge wire from 72 to 144 inches. Custom heights available for taller projects. Vinyl coating in black, brown or green available. Barb wire, razor ribbon, bottom tension wire, plastic slats, windscreen, mini link, middle and bottom rail, plus brace and trusses are all additional options.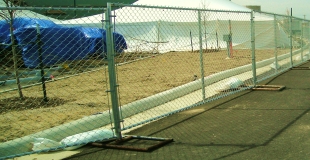 Temporary Fence (Bass Pro Shops - Rossford, Ohio)
Fabricated 6 x 12 foot panels on a 1 3/8 inch steel frame. Base stands welded from schedule 40 pipe for added weight to support each panel. Panels are secured together with saddle clamps.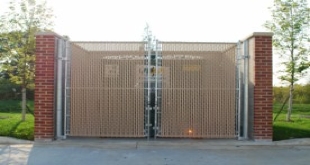 Dumpster Enclosures (Sunoco Gas Station - Defiance, Ohio)
Dumpster enclosures are constructed using wood privacy with a steel frame double gate, polyvinyl privacy fence with an aluminum frame double gate or chain link with PDS plastic slats shown. Gates can be set next to existing brick pillars and are made to fit any opening.
Guard Rail (First Solar - Perrysburg, Ohio)
Constructed of high strength, 12 gauges, hot dipped galvanized steel. Highway guard rail is available in standard 12-foot 6-inch lengths. Flared or tight curl ends are optional. H-beam and round posts available.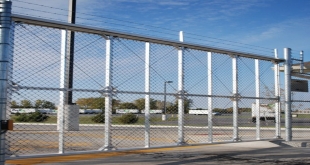 Gate Operators (Chrysler/Jeep Plant - Toledo, Ohio)
Commercial post-mounted gate operators are designed for high traffic applications such as heavily accessed gated communities and commercial buildings. Gate operators are equipped with continuous duty operation functions, timer to close options, adjustable limits and are also weather resistant.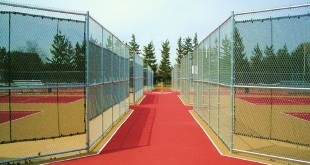 Tennis Courts (Wauseon Park - Wauseon, Ohio)
Chain link tennis courts are installed with 96 to 120-inche, 9 gage wire. Green or black vinyl chain link and windscreens are available. Top, middle and bottom rails provide extra strength. All posts are set in concrete and flat capped even with grade.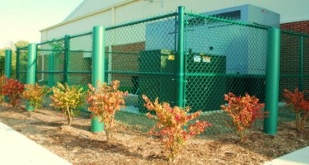 Vinyl Chain Link (Smith's Storage - Lima, Ohio)
Vinyl coated chain link provides the same security and visibility of galvanized chain link with a color coated finish. Available in black, green and brown. Vinyl coated chain link is decorative, less abrasive and will help prevent corrosion over time.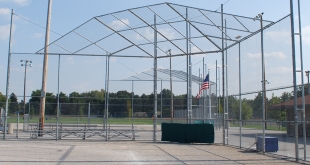 Baseball Backstops and Outfields (Municipal Park - Perrysburg, Ohio)
Backstops and canopies vary in size. Baseball backstops range from 10 to 30 feet with canopies extending around 12 to 20 feet. Canopies are supported with larger diameter posts and larger concrete footers. Additional bracing and trusses keep canopies secure and stable.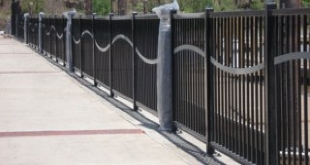 Ornamental Fence and Steel (Toledo Marina District - Toledo, Ohio)
Ornamental aluminum fences provide maintenance free security for commercial and industrial projects that require a decorative appearance. They are available in a wide variety of styles, colors and heights.